Cypress Realty, a Real Estate company you can count on
Posted:
Cypress Realty is growing!
Are you looking for a realty company you can trust?
Our Real Living 360 service is an extraordinary program that differentiates us from other companies.  Our dedication and commitment to our customers have resulted in a 97% satisfaction rating – the best in the industry.
We have a new Operations Manager
Cypress Realty welcomes Kelli Miller to our Family!
Kelli will be handling our Relocation/ Referal Department as well as managing the office.
Welcome, Kelli Miller!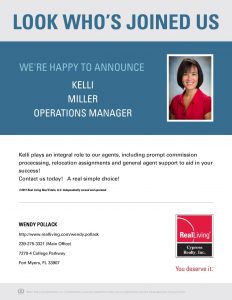 We also would like to welcome James Corbet to our office.
A little about James:
James Corbett was born and raised in southwestern Ontario Canada. He has held multiple supervisory positions within the manufacturing industry, in addition to more than 13 years of successful sales experience within the pet retail business.
A friend recently told James that he should be a real estate agent because of his friendly, outgoing and genuine personality. Ironically, real estate has always been an interest of his. With his recent move to Southwest Florida, James jumped at the opportunity to change careers and pursue his passion. He enrolled at Larson Educational Services and successfully completed the real estate sales associate program.
James has a reputation for building strong relationships through open and honest communication. His integrity, outstanding customer service and commitment to his clients are what motivate him to be the best.
In his free time, James enjoys spending time at the beach, traveling to exotic places, riding his motorcycle and roller coasters. James resides in Cape Coral with his two dogs, Hazard and Daisy.
 James Corbett you are a perfect fit for our office!