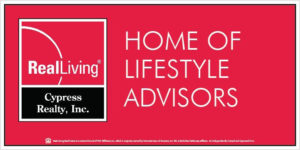 ARE YOU PLANNING A CAREER IN REAL ESTATE?
Let's talk. Contact me today! Join Us Today!

239-275-3321 (Office)
239-633-4997 (Direct)
The Power of Us, The Freedom to be You. A Real Simple Choice!
Join our Team of Lifestyle Advisors
THE REAL LIVING CYPRESS REALTY ADVANTAGE
At Real Living Cypress Realty we offer compelling advantages to our agents.
Best in Class Technology – In today's increasingly mobile and digital world, brokers and agents simply must have access to innovative new technology and programs to attract and retain customers. Our commitment to creating and providing the latest tools helps ensure that our agents can compete for today's consumers and market listings more effectively in today's mobile and digital world.
Sales Support – Our industry leading suite of tools and systems was designed with only one objective: ensure your sales success. We equip agents with the best systems to win listings and provide an arsenal of hard-hitting, effective tools and systems.
Marketing – Our marketing is based on a trademarked, 360 Degree Marketing Integration Circle. This proprietary system enables and empowers agents to differentiate themselves from the competition and sell listings in today's traditional, mobile and digital marketing environment
Professional Development – Training and professional development is the foundation of any strong sales organization. Our training is designed to be relevant for today's agent. Online and live training is a key fundamental of our office..
Business Planning – The old adage, "If you don't know where you're going, how will you know if you've arrived?" applies here. Our agents have access to superior business planning tools to chart a path for growth and success.
360 Service® – Our customer service program is designed to ensure a consistent, reliable and measurable service experience, the unique program enables you to deliver a more satisfying experience to your customers – the kind that leads to additional referrals and greater repeat business.
We promise our customers the best possible real estate experience with Premier Service. We're so committed to this, in fact, that we put our promise in writing and hold ourselves accountable to a standard of service unparalleled in the industry. The Premier Service program has resulted in a 96% Customer Satisfaction Rating*, and we believe that satisfied customers lead to improved repeat business and expanded referral business.
Are you interested in joining Real Living Cypress Realty? Let's talk. Fill out the form on this page or Call us! 239-275-3321
Let's connect TODAY & talk about your CAREER!
A REAL Simple Choice!
Wendy Pollack, Professional Development: Cell # 239-633-4997  Wendy@cypressrealty.com
Agent Testimonials
Deb Rossi, Realtor®
I have been with Real Living Cypress Realty for 4+ years and I have had the pleasure to work with Wendy, Bob and Lisette. Working with Wendy has ALWAYS been a pleasure. She is willing to help and never becoming flustered because I was not understanding a process or an app. No matter if I was in person with her or remote, she has always been responsive and supportive. She always made things happen in a timely manner and always made me feel whatever help I needed, it was the most important request to be handled. Never had to re-ask. Her reaction was always timely.  The availability of Bob, Wendy and Lisette is a huge bonus and make for many smooth transactions! I would recommend Real Living Cypress Realty as your choice for career development.
 Debbie Blinkhorn, Realtor®
I have been an agent in Lee county for over 10 years. I have worked for several different Real Estate Companies over the years. Real Living Cypress Realty is the absolute best that I have ever worked for. The support in this office is insurmountable! Wendy takes you on from day one and gives you any marketing help you may need. She stays with you through it all and is available to reach day and night. So important in this business. Bob Wade is always available for questions and has too many years of knowledge too mention. And Bob's Boot Camp is great even for a seasoned Realtor like myself. Kerry is a great transaction coordinator who helps you keep your deals on track. Also Lisette is great with any other questions you have. She gets you set up and also is there for you everyday. If you are searching for a new Office to be a successful Realtor end your search now! You found your Office! Come and be successful with an office that cares! Debbie Blinkhorn, Realtor, Real Living Cypress Realty.