Fort Myers Beach Homes
Posted:
For those considering living among or investing in Fort Myers Beach homes, here's some great news! Fort Myers Beach is being heralded nationally in the 2018 ranking of Best Beaches in the United States as produced by TripAdvisor. The popular travel site annually produces a report of where to find the most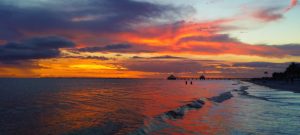 sensational mix of sand & sea. This year, there were eight different Florida Beaches that ultimately ranked among The Top 25 Beaches in America. Fort Myers Beach ranked #14, actually climbing four spots from last year when it ranked among The Top 18. Of course, as frequent visitors and residents of Fort Myers Beach homes may already know, such recognition isn't new to our community. Fort Myers Beach has been similarly honored in reports by USA Today and other travel-related resources. Last year, LendEDU (an online marketing resource for financial products and services) produced a list of The Top 250 Places to Retire and Fort Myers Beach was also heralded in the report. Then again, that same report indicated Southwest Florida communities of Naples, Fort Myers and Bonita Springs; they all ranked among The Top 10. In such recognition for Fort Myers Beach, reporters routinely assert that further appeal derives from the mix of shops, incredible restaurants and entertainment options which include popular events like the National Sand Sculpting Championship, The Shrimp Festival and annual Taste of the Beach which takes place this year on May 6.  So, from the beauty of the beaches to the family-and-retiree-friendly spirit of the community, as well as for all the shopping and dining advantages, Fort Myers Beach homes come with many benefits. Add to the mix, bragging rights for residing among one of America's BEST beaches.
If you'd like information on current Fort Myers Beach homes for sale, our team always enjoys the opportunity to provide a tour of homes along this amazing stretch of shoreline. Fort Myers Beach homes include condos, townhouses, and single-family homes in a range of varying floor-plans and price points. To learn more, connect with Real Living Cypress Realty by submitting the form below.
Current Fort Myers Beach Homes for Sale