The Top 200 Most Powerful People in Residential Real Estate 2017
Bob McAdams Jr., President of Real Living Real Estate Brand has been named one of the most powerful people in Real Estate.
Great to be a part of such a fabulous Company.  We wanted to share this article with you!  Enjoy!
The power of us… The freedom to be you.  A Real simple choice!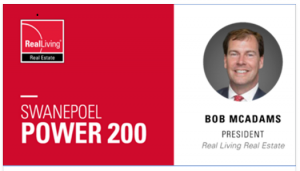 Click here for complete Article:    Top 200 most powerful people
"McAdams, Jr. oversees the Real Living Real Estate brand, which has 120 offices and 4,300 agents who do 27,500 annual transactions for $6.8 billion in annual sales. Real Living was named the "Real Estate Brand Agency of the Year" in 2016's Harris Poll EquiTrend study."
( 2017 Swanepoel Power 200)