Southwest Florida Dive Sites
Posted:
Leading Southwest Florida Dive Sites
As a coastal community, so much is often communicated about the opportunities that abound in boating, fishing or enjoying the day at a beautiful beach. Yet, there are many within our region for which it isn't enough to simply saunter among the sands or ride upon the tides – NO, they prefer to be IN the water. The following offers insight on some of the best Southwest Florida dive sites. If you enjoy scuba diving, these are some of the best local destinations to discover.
The Baja California Reef
It may be known by its California name, but the dive site is all Southwest Florida. The Baja was once a Norwegian freighter, built in 1914. The ship weighed some 1,648 tons, but was even heavier given its load of war materials when it departed New Orleans bound for Guatemala in 1942. The German sub U-84 put an end to the passage with a well-placed torpedo. This ship ultimately sank some  60 miles off the Naples inlet. Today, the wreck exists as a thriving reef. It remains among the most popular of Southwest Florida dive sites.
LOCATION:
Latitude: 25 21.38'N , Longitude: 82 31.96'W
25 21.436'N, 82 31.979'W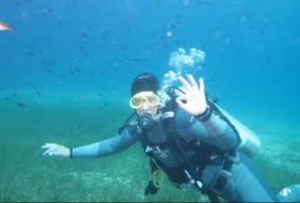 25 21.522'N, 82 31.901'W
25 21.585'N, 82 31.91'W
Depth: ~ 110 to 115 ft
The Bayronto Wreck
A British Steamer, The Bayronto was abandone during a September hurricane that dates back to 1919. Treasure has long been rumored to exist among this site, but all that is certain, it is rich with varieties of marine species.
Latitude: 26 45.80'N, Longitude: 82 50.84'W
26 45.83'N, 82 50.86'W
Depth: ~ 110 ft
The Black Hole (or Naples Spring)
It is believed that this site once served ancient Paleo-era civilization since fascinating artifacts have been found in its periphery.  The Black Hole is a freshwater spring within the Gulf that measures some 100 feet in diameter and more than 220 feet deep, forming a bowl that drops away from the sea floor at around 70 ft. depth. Visibility can alter drastically from day to day, and you may want to acquire some experience diving caves before taking on this challenge.
Latitude: 25 50.563'N, Longitude: 82 09.114'W
Depth: ~ 65 ft down to about 220 ft
The Captiva Blue Hole
On the surface side of things, Florida sink holes are something you'd never desire to encounter.  Yet, underwater, these can make for a rather extraordinary dive site. The Captiva Blue Hole (also known as "The Crack") is positioned approximately 30 miles from the coast of Boca Grande. The sink hole reportedly descents to depths of 180 feet. Fascinating finds in coral and marine species will be encountered here.
Latitude: 26 28.90'N, Longitude: 82 44.19'W
Depth: ~ 90 ft down to 180 ft
The Dept. of Defense Relay Towers Reef
This site is positioned thirty miles off the coast of Naples. Back in the 1980s, the Department of Defense established these 14 towers as part of a radio relay system used by the Air Force. The metal frame work is all you see from the surface, but below, the infrastructure has made for an incredible reef which team with life from the depths all the way to the surface. In addition to being popular with divers, this area has long become highly popular with local fisherman too.
These GPS coordinates and Lat/Lon way points will help navigate you to the site, yet at you approach, the towers are easy to observe..
D Tower: 25 34.0'N, 81 43.0'W  Depth: ~ 28 ft
L Tower: 25 22.03'N, 82 27.9'W Depth: ~ 100 ft
P Tower: 25 07.0'N, 82 00.0'W  Depth: ~ 65 ft
R Tower: 25 28.0'N, 82.06.11'W Depth: ~ 65 ft
S Tower: 25 02.0'N, 82 22.0'W   Depth: ~ 80 ft
T Tower: 25 48.0'N, 82 13.0'W    Depth: ~ 65 ft
W Tower: 24 56.0'N, 82 43.0'W  Depth: ~ 120 ft
The Fantastico Wreck
This 200-foot long freighter from Honduras, known as "The Fantastico," sunk during the infamous Storm of the Century  (March 19, 1993). This storm exacted particular cruelty to Florida's west coast, resulting in property loss as well as lives. The Fantastico since emerged as a rather fantastic option among Southwest Florida dive sites. Numerous species of fish can can be found frequenting this location.
Latitude: 26 17.78'N, Longitude: 82 49.88'W
26 17.775'N, 82 50.082'W
Depth: ~ 100 ft to 115 ft
USS Mohawk Veterans Memorial Reef
Among the most famed and popular of Southwest Florida dive sites, The USS Mohawak was a decorated WWII-era  Coast Guard Cutter with an esteemed legacy of service to our nation. Today,  The Mohawk serves both as an artificial reef and underwater as an underwater memorial to veterans. The ship was sunk off the coast of Sanibel Island.
Latitude: 26 33.075'N, Longitude: 82 43.481'W
Depth: ~ 87 ft
The Santa Lucia Wreck
Formerly a turtle boat, the 47-foot long Santa Lucia sunk in 1997. As an artificial reef, it remains another popular option among Southwest Florida dive sites. It is positioned some four miles west of Naples' Gordon Pass.
Latitude: 26 5.388'N, Longitude: 81 50.626'W
Depth: ~ 20 ft to 25 ft
These are just a few of the popular Southwest Florida dive sites, and for diehard scuba enthusiasts many other choices await. Likewise, great options also exist among Gulf-access homes that ensure quick and convenient connection to these and other dive sites. To see some of our favorite selections in Gulf access homes currently for sale, CLICK HERE. To be sure, there's not a dive among 'em. For more information on these or other homes for sale in Southwest Florida, connect with our team at Real Living Cypress Realty by submitting the form below.
Other Homes for Sale in Southwest Florida