Southwest Florida Red Tide Conditions
Posted: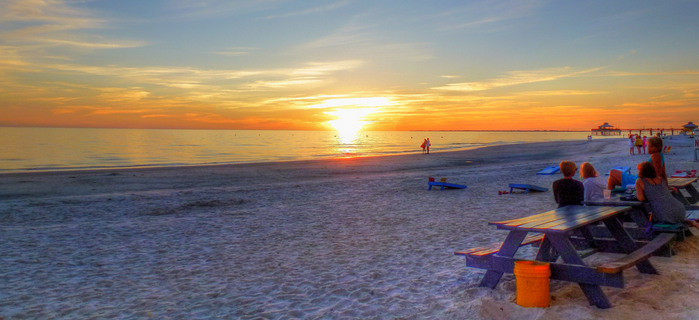 Southwest Florida red tide conditions have not only dominated news headlines, but have prompted inquiries from numerous customers in terms of questions like "How bad is it?" or "What is it." The following is offered to provide insight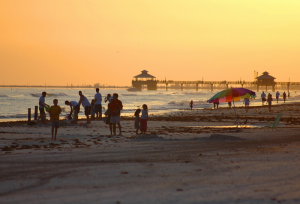 for those of you who may not be readily familiar with this particular facet of life which occurs among coastal communities throughout the world. To that point, red tide (a type of algae bloom) shouldn't be regarded as something new; instances of red tide have been documented since the dawn of recorded history. This occurs when there is a exceedingly large amassing of oceanic micro-organisms such as protozoans, species of plankton and varied kinds of algae. Among our Gulf waters, there is an ever present type of algae known as Karenia Brevis. When this species blooms into such expansive proportions, the toxins discharged result in dire consequences. A tragic number of fish can be killed, which unfortunately includes dolphin and other marine mammals. Beach visitors are also impacted by Southwest Florida red tide conditions, and not simply from observing dead fish washing ashore, but as toxic particulate become airborne, it can produce an irritating burning or itchy sensation to your eyes and throat and even respiratory discomfort. Red tide, by the way, isn't the same as red drift. The drift pertains to another type, larger, species of algae. This can sometimes become detached from its fixture among the depths and likewise wash-up on shore. This algae isn't toxic, but may become aromatically yucky as it begins to decay.
Fortunately, the good news is that Southwest Florida red tide conditions never last for too long. It can fade away from the scene, then return, then disappear again over the course of any season that it appears. This year, indeed, it seems more prevalent than other seasons, then again, we're also experiencing a robust political season. Many candidates have focused on this issue, pledging to do something about it, which has kept the issue of red tide in the news. What's more, there is science that strongly indicates there are man-made factors which exacerbate Southwest Florida red tide conditions. This involves the discharge of fresh water into the Gulf (such as that released from Lake Okeechobee), especially when it combines with runoff of chemicals used among inland agricultural operations. Even now, there is research and reported efforts underway striving to mitigate the impact of red tide to some supposed extent at some uncertain time.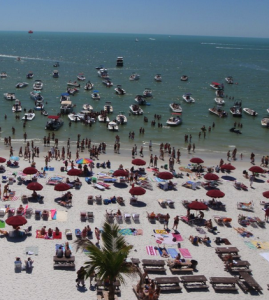 Since this is a natural phenomenon that has occurred for likely millennia, one can only speculate as to who would win in any battle between Man vs Mother Nature. Yet, we do applaud any effort that serves to better protect the quality of our coastal waters. As a team of Realtors and residents who respect marine life as well as opportunities to relax at the beach, go fishing and enjoy water sport activities, our office is like that of so many who take the issue of water quality very serious. We genuinely want our area visitors to enjoy the sunny beach-side of life here, to the same degree that we are fortunate to experience throughout the year.  We also understand that the integrity of our waters and coastal landscape makes a significant contribution to overall economic sustainability of our region. We're encouraging others to continue advocating for the preservation and safekeeping of our beaches and Gulf waters. These are so precious as to not simply deserve protection, but they demand it. We can all look forward to the advance of cooler weather and cooler waters as this diminishes the red tide, but again, the important thing to keep in mind that this is something that is both seasonal, and short-lived. The good days at our area beaches far outnumber those which are less than good. What's more, such seasonal factors shouldn't diminish one's want to invest in Gulf front real estate because the returns in quality of life and investment far outweigh any brief impediment from red tide.
For those of you wanting to track Southwest Florida red tide conditions, there's a super cool tool that comes from SO-COOL (that's the Sarasota Operations Coastal Oceans Observation Laboratory). Simply click on the image below, and you can learn about conditions among area beaches as well as see pictures, learn about amenities and more.
CLICK IMAGE TO TRACK SOUTHWEST FLORIDA RED TIDE CONDITIONS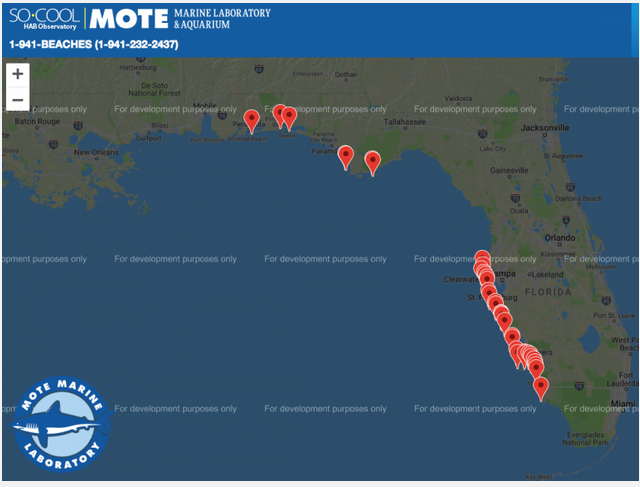 Fort Myers Gulf Access Homes for Sale